Our Freshers have their first semester of uni under their belts, our Seniors have made a great transition to their increasingly demanding academic workloads, and the results are in!  Senior Tutor, Katie Newcombe reports: "the overall picture is an exceptionally positive one." The Semester Average Mark (SAM) for the College was 72.29% with the Freshers scoring a SAM of 74.3%. Over 43% of all students received a Distinction or High Distinction average – an impressive figure indeed!
Our top-ten undergraduate performers were: Mr Ed Taylor (Bachelor of Engineering/Arts II), Mr Ben Varela (Bachelor of Engineering/Bachelor of Science I), Mr Austin Markwick (Bachelor of Engineering/Bachelor of Science I), Ms Bella Taylor (Bachelor of Science (Medical Science I), Mr Aidan Riethmuller (Bachelor of Engineering/Bachelor of Commerce III), Mr William Defina (Bachelor of Engineering/Bachelor of Commerce I), Mr Jack Bouvier (Bachelor of Advanced Computing II), Mr Miku Sugimura (Bachelor of Science (Medical Science) I), Mr Andrew Brennan (Bachelor of Engineering/Bachelor of Science I) and Assistant Senior Tutor, Mr Riley Jones (Bachelor of Advanced Computing/Bachelor of Science III).
From this list, it's clear our budding engineers and scientists gave quite a showing last semester. In these difficult degrees, these results are seriously impressive and we are very proud of these students' hard work. Last semester, with the help of our fantastic senior engineering students, we also reformed the engineering College tutorial offering with all first year students having a College mentor for their various streams (mechatronic, mechanical, civil, etc) as well as for their professional engineering experience programme which we hope contributed to these outstanding results. Five out of our top 10 performers were also Freshers – indicating the College's academic future is in safe hands!
For Graduate House, students studying taught courses (around 1/3rd of Graduate House) received a SAM of 70%. We have a wonderfully diverse range of taught courses in Graduate House this year – from the Juris Doctor, to Masters of Social Work, to a Masters of Architecture. It was also fantastic to see all our research students have a successful and enjoyable start to their degrees – from PhDs to Honours projects!
As usual, 1st year medical students and allied health students had a busy semester working through their introductory blocks in the muscular skeletal system, the respiratory system, and cardiology, and learnt clinical skills such as taking patient histories. Our Graduate House medical students are also using their knowledge to help out undergraduates this semester, tutoring undergraduate medical science and helping aspiring medical students ace the GAMSAT. Within Graduate House, our comprehensive medical tutorial programme, for all years 1 and 2 learning blocks, continues under the guidance of our Assistant Senior Tutor (Medicine), Meheer Zaveri.
Other good news for the student body was the return to in-person exams for most students in Semester 1. Technical issues in exams, and the stress which comes with them, were significantly reduced. For some students, the first in-person exams during their university career was an adjustment! But we are ably supported by our army of capable tutors and other seniors who provided tips and tricks to survive exam season.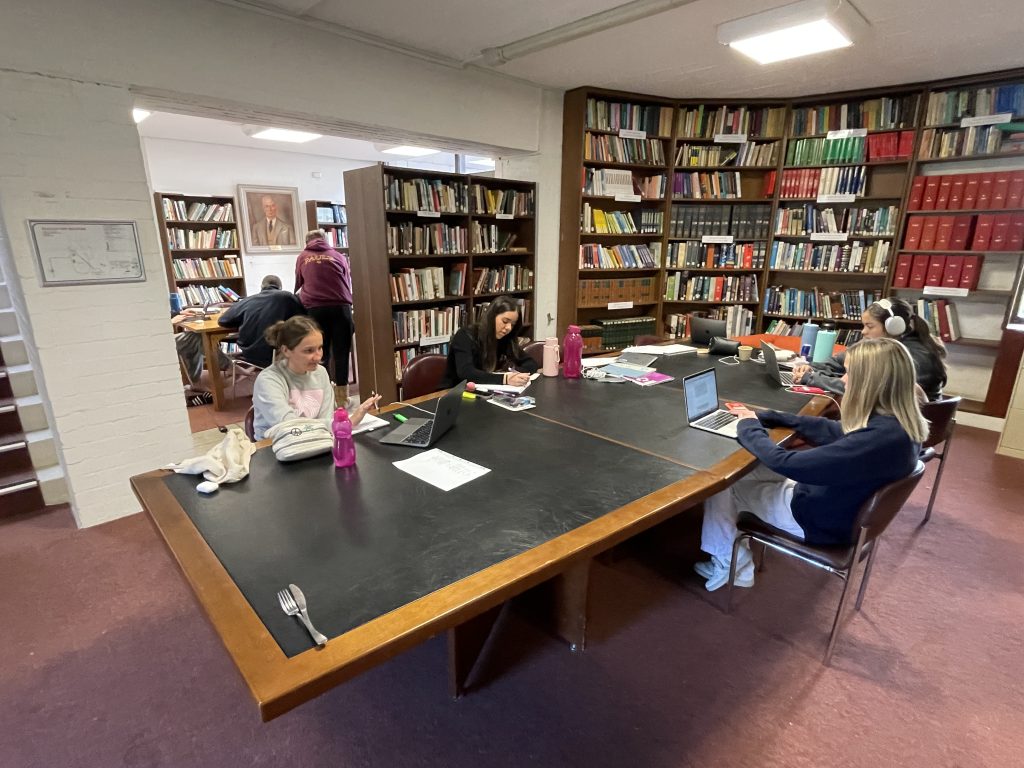 Semester 1 also saw another successful semester of in-College tutoring. 675 tutorials took place across College in Arts, Languages, Commerce, Economics, Engineering, Health Science, Law, Mathematics, Medicine, Nursing, Programming, Education and Life and Physical Sciences. Assistant Senior Tutor, Riley Jones, reports: "Through the College tutorial programme, Seniors and Freshers have worked together to foster an academic-driven environment." 
In the early weeks of Semester 1, Riley encouraged our students to see tutorials as a great way for Freshers to get to know Seniors, benefit from their experiences both at university and in College, and feel more quickly at home at St Paul's. The Freshers' commitment to the tutorial programme has been impressive with over 90% of students making use of the tutorial programme. Our students report that tutors: "go the extra mile in helping others understand concepts", and are "extremely encouraging and set [students] on the right track to achieve excellent results." Of one tutor, a student said, "Quintessential Pauline. Puts others before himself."
We are so proud of all the young people who teach in our tutorial programme – more than tutors, they are wonderful academic leaders and role models. College tutorials began for Sem 2 this week, and we've already logged 26 tutorials! So we're off to another great start.
Judged on Semester 1 results, the St Paul's community is committed to academic excellence: "The proof is in the pudding!"