At the start of the year the Students Club Committee of 2023 headed down to spend a weekend at The Barn Scone.  "The Barn" Scone is located 3.5 hours North of Sydney and is set in the idyllic Hunter Valley, on one of Australia's leading thoroughbred nurseries Kitchwin Hills.
As an SClub they discussed and planned our strategic objectives for the year, especially surrounding the integration of females into the College and ensuring that the College delivers to its students the utmost in all areas of academic and social life. The weekend was full of activities. A tour of the horse stud, BBQ by the river and a game of scatter!
It was a great weekend to settle into our new roles, meet each other and prepare ourselves for the year! We couldn't recommend 'The Barn' enough and a big thankyou to 'The Barn' and to Kitchwin Hills for such a great time!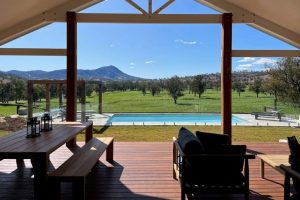 For more about the Barn CLICK HERE