From Katie Newcombe, Senior Tutor
Our annual undergraduate Academic Dinner for 2023 was once again a wonderful night full of celebrations, congratulations, and comradery. It was a great pleasure to recognise and celebrate the hard work and academic talent of our students.
The guest of honour this year was The Honourable Chief Justice Andrew Bell. An Old Pauline and distinguished jurist and Rhodes Scholar, Chief Justice Bell addressed our students at dinner, giving us a powerful reminder of the importance of community, listening to each other, and that learning communities such as St Paul's can be a wonderful antidote to social and intellectual isolation. Together with the Warden, Chief Justice Bell presented prizes to some of our highest achieving students.
Prizes were awarded for high achievement in specific subject areas, as well as service to the College, and excellent academic achievement overall. It was particularly fantastic to welcome back Paulines whose valedictory was last year and congratulate them on their achievements in their final year of College. A special mention must also go to Ed Taylor (BE(Hons)/BA) for achieving not only the highest Fresher marks last year but the highest in the College overall!
Also awarded at our Academic Dinner was the St Paul's College Teaching Excellence Award, given to the tutor, nominated by their peers, who most embodies the Pauline values of excellence and supporting others. We had over 10 nominations this year and the prize went, with raucous applause, to Mathu Pushpakumar (BE(Aero-Space)(Hons)/BComm). 2022 was a particularly successful year for our tutorial programme with over 1100 tutorials taking place throughout the year.
We are incredibly proud of our prize winners and high achievers honoured at our Academic Dinner and also proud of the friends, tutors, and peers that encourage all students to do their best and aim high at St Paul's College.
Prizes were awarded to:
Ed Taylor Prize for the Highest Annual Average Mark in College
Jack Holt McWilliam Prize for law and service to College
Jackson Rogers Uther Prize for three years' distinguished examination results and service to College
Bryson Constable Sir Ian McFarlane Prize for exceptional results in economics/commerce and for service to college
Hayden Fleming Portus Prize for exceptional examination results in History, Economic History of Philosophy
Mathu Pushpakumar Prize for Most Outstanding Tutor – nominated by his peers
Those gaining a High Distinction average in 2022 were:
Bryson Constable
Nicholas Jones
Riley Jones
Tommy Lu
Austin Markwick
Luka Mattani
Alessandro Petagna
Joseph Scopas
Aakash Singh
Alexander Siu
Harsh Talathi
Joshua Taleb
Edward Taylor
Julian Visalli
Tylor Wessels
Those gaining Distinction average in 2022 were:
Harry Algar
Wiley Anderson
Oliver Andronicus
Mitchell Arcus
Luke Arnold
Henry Blackwell
Jack Bouvier
Lachlan Bowen
Lachlan Brewer
Lachlan Brown
Thomas Burge
Oscar Carr-Middleton
Samuel Choi
Charles Dight
Lachlan Donaldson
Nicholas Dower
Joe Dyson
James Feetham
Hayden Fleming
Thomas Follett
Oliver Freeman
Auxence Gide
Nathaniel Gleeson
Thomas Green
Joshua Hall-Johnston
Sebastian Hodge
Walter (Jack) Holt
Nicholas Horne
John Houstone
Marcus Howes
Alan Huang
Henry Hughes
Archibald Hyles
Thomas Jarvis
Joshua Jones
Nicholas Laforest
Matthew Leijer
Henry Lewis-Thorpe
Leo Li
Benjamin Locke
Hunter McAuliffe
Isander Mesimeris
Michael Mingay
Nicholas Moroni
Isaac Morse
Theodore Mower
Finnegan Murdoch
Cooper Nagy
William Nicholas
Jonah O'Sullivan
Thomas Phelps
Maximilian Philips
Max Prince
Mathu Pushpakumar
Alexander Ranson
Samuel Richards
Aidan Riethmuller
Jackson Rogers
Alexander Rosic
Charles Rutledge
Jack Sandelin
Oliver Schnitker
Sebastian Shanahan
Toby Smith
Kyle Soepono
Joska Steinbusch
Zinzan Still
William Studdert
Simon Toscan
Nicholas Trotter
Joshua Turner
Hugo Walker
Harry Whitehead
Lachlan Whitehead
Connor Whiteley
Devon Wilson
David Zhang
Jason Zhu He
The College community congratulates all these Paulines on their achievements.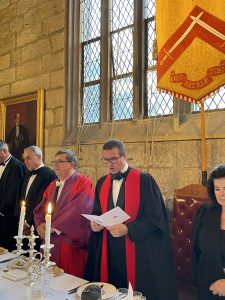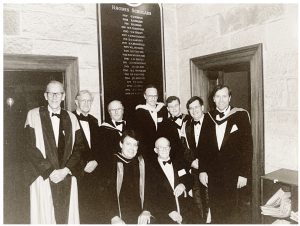 Rhodes Scholars of St Paul's who gathered in 1996 – Andrew Bell 2nd from right