The Law Dinner guest of honour was Professor Ben Saul (in College 1995-97) who is Challis Professor of International Law and was elected to the University Senate earlier this year. He has appeared as an advocate in international, regional and national courts outside Australia, and he is also a barrister in New South Wales. Ben is an Associate Fellow of the International Centre for Counter-Terrorism in The Hague, and an elected Fellow of the Australian Academy of Social Sciences. He was the Gough Whitlam and Malcolm Fraser Visiting Professor of Australian Studies at Harvard University in 2019, and is a former Associate Fellow of Chatham House (the Royal Institute of International Affairs) in London. He has published 20 books, over 100 refereed articles, and hundreds of other publications. For his full resume click here.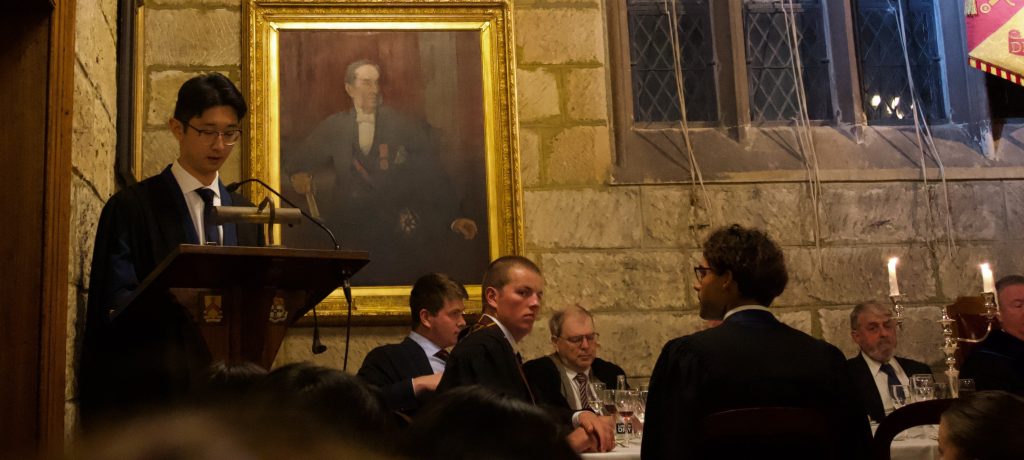 20 old Paulines and academics joined the undergraduate and post graduate Law students for the annual law-feast dinner and JCR seminar on 11 September. Ben's address was about the various responses throughout the world to Russia's invasion of Ukraine, but also dwelt on Western self-interest and double standards in not enforcing international law in other grave situations.
There was a lively Q & A following, including questions on the upcoming referendum on The Voice to Parliament. The support of alumni like Ben Saul who come back to College to inspire students provide a truly academic stream to the activities of Paul's, encouraging listening, questioning, scrutiny, debate, tolerance, analysis, and appreciation of deeper learning.
Pictures: Ben Saul; Law Dinner Convener Jason Zhu He speaks [credit: Tia Durovich]